UX Research | Usability Testing | Children | Mobile App
Video App for children--QiBubble
April 2018 - July 2018, 3 months UX Researcher
What is Qibubble
​
The largest video platform for children in China( DAU≈20 million)

Focus on AI audio partner, AR, creating more educational and enrichment environment for children.
​
Trigger point

:QiBubble V8.4.0 released on May 2018

New functions:
A totally new interface and simpler hierarchy for children.

Adding an AI audio partner "Kilu" that can ask children's questions.

Adding AR School for children.
​
My role:
​
As a UX Research Intern at iQiYi Inc., I spent 3 months conducting in-depth user research on Qibubble mobile application.
During my time, I conducted 50 lab testing and 2 pilot usability testing with providing feedback to the product team on findings such as UI layout, information architecture, design components, etc.
The new version software will launch globally on July 23rd, 2018.
The original premise:
Use the application to watch cartoons,

Know how to voice search for cartoons via Kilu

How to interact with Augment Reality technology
​
Kilu is identified as a partner with children, it is emerged with voice search and Augment Reality function portals. By clicking Kilu, children can access to voice search and Augment Reality function.
​
Our UX researcher team need to evaluate the functions of the voice search function of Kilu, obtain feedbacks from children and provide promotion suggestions for future versions.
​
Tidy up

​needs
In order to facilitate the right kinds of ideas in a collaborative design environment, I created an overview of the tasks that design supports.
Mindmap aids in usability test planning for the task setup. When it's time to test with users, branches of a mind map can serve as self-contained test plans. Simply pick a few branches, write a test scenario around them, and we are ready to test.

It ensures we plan for things that don't go as planned. Part of planning a user experience is considering what happens outside of the best-case scenario. Our team uses mind maps to plan where to write helpful copy for errors and see what alternative routes we are missing.

Mindmap quickly shows us what we've tested. Along the same lines, mind maps help to get a visual indication of our automated testing coverage by pairing branches on the map with the names of feature files that exist in our automated testing system.
The mindmap of research needs
Screener & Recruiting
According to our target users, we decided to recruit 3-6 years old children. There were two methods to recruit children:
Sending flyers in front of elementary school or kindergarten

Calling via phone to potential target users
​
​
The scenario of recruiting participants
Pilot study
During the design review and pilot study, our research team sit down as a group and spend time critically thinking about the research approach. This involves reviewing:
Our high-level goals for what we are aiming to learn

The tools we are going to use

The tasks participants will be asked to perform

Participant questions

The participant target profile
Revision
Based on the feedback from participants in the pilot study, I noticed several potential improvements:
Younger children spent almost 20 minutes familiar with the environment and started usability testing session

Children were so engaged in watching cartoons that failed to follow the task instructions.

The 5 Likert scale is abstract for children and they can't understand it.
​​
Solutions
Keep the Environment Child-Friendly and Safe with providing adorable toys at first. It can reduce each other's distance at a short time. It's important to use the environment to make children welcome and acceptable. Putting up some child-friendly posters, make certain that chairs and desks are appropriately sized.

Get Their Attention and Keep Them Engaged. I changed the instruction details and started up with a fun introduction exercise. Get kids to tell me about their favorite TV shows (or draw them). Make sure they're familiar with any technology that they're going to use before moving on too. We keep sessions to under an hour with a little drink. Keep visual distractions to a minimum too or attention spans may wander.

Seek Support from Parents. It's important that parents be close by and if we find that a child's not quite involved in the right way. They can also help us explain things more easily to their children sometimes too.

Use visual scales, instead of simple numbers or words. When possible and appropriate visual scales work specifically well with young children
​
​
​
Visual scales
Strongest dissatisfaction to strongest satisfaction
The screenshot of Usability testing
The scenario of Semi-interview
Homepage
​
Children can notice voice, gesture and lip animation are from Kilu.

Children can click correctly on the first two Kilu icons but totally ignored the third one. For users, the third Kilu was assumed as a guide to specific cartoons.

Kilu's sound would disappear unexpectedly when children habitual slide away from the first part of the Homepage.
​
​
​

​
​
Voice User Interface

​
​
Children felt the friendliness and welcome of Kilu.

When inputting voice, children prefer to long-press the microphone icon, rather than press it once.

Children have a transfer of learning from Wechat. Wechat (the most popular mobile chat app​) has the function to input voice with long-press the button.
​​
​

​
​
Augment Reality Portal

​
​
Children can not understand the meaning of AR portal.

Children felt difficult to connect AR portal on Kilu's home (1st image) with AR portal on Homepage (2nd image)

Users have no concepts on AR

"AR" is an English-learning related course and lack of motivation

2 AR portals are lack of common design elements.
​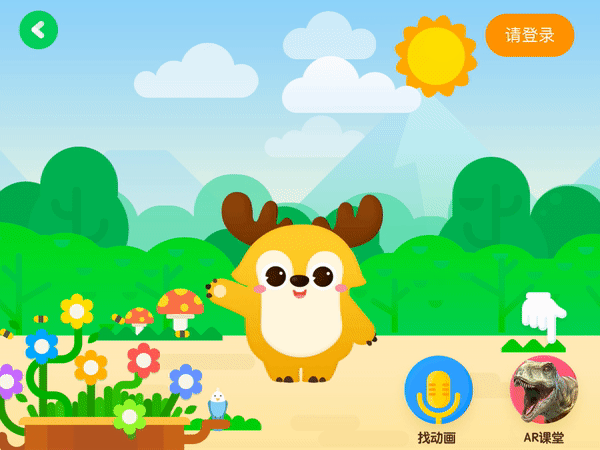 Augment Reality Interface

​
​
Children understood the Camera icon meaning and operate it correctly.

Children felt difficult to interact with the models. They tried to resize and rotate the models.

It was lack of instructions on how to interact with models on AR interface​s.
​​
​

​
​
What I have learned:​
From this project, I learned a lot about research for children mobile application as well as the signifiers, mapping, affordances and feedback provided by the digital device.
depending on the complexity of our research activity, I had to prepare other activities such as card games, toys, or drawing sheets to serve as stimuli during our research sessions and keep the kids engaged.
Working on customers directly is super rewarding because I help to contribute to the tech community as a whole and can engage directly with our customers.